Frost Racing Pavement Late Model Racing Team


USLMA Super Late Model


This page contains crew names, race locations, results, and car parts information about the Frost Racing Team.

I owe many thanks to my family and friends. I could not race without them.
E.I., builds and tunes the engines and does a lot of other work too.
Keith, engine building, welding, fabricating.
Kevin, tire specialist and spotter.
Glenda, support.
Cheryl, team photographer, pit stop window washer, and great wife.
Danny, all around mechanic.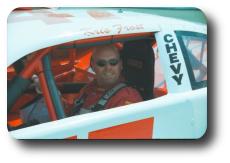 Born: July 16, 1963 - Duncan, Oklahoma

Family: Married to Cheryl, Daughter Holly born Feb. 10, 2006, Son Nicholas born Jan. 15, 2008.

Education: B.S. Degree in Computer Science from Cameron University, December 1985

Job Title: Software Developer Senior

Racing History: I raced Moto-X when I was a young'un. I didn't start racing again until 1989. We started racing Mini-Sprints in Southwest Oklahoma. Eventually both of my brothers and I were racing Mini-Sprints, primarily at Faxon Speedway. When Faxon closed in 1995 I decided to try racing the Mini-Sprint on pavement at Wichita Falls, Texas. That turned out to be fun, so I decided to try "Big Car" racing at the 1/2 mile track at Altus, Oklahoma. We built a Late Model in 1996 to race at Altus. We bought a new Late Model in 1999 and raced it at Altus until 2001 - when the 1/2 mile track was closed. We have also tried our hand at a few ROMCO Super Late Model and NASCAR Touring races.
We started racing in the Late Model class at Sooner International Raceway (SIR) in Altus, Oklahoma during the 1996 season. SIR was a fast, paved high bank 1/2 mile tri-oval. Unfortunately, the track has been sold to the local airport and will be destroyed to clear the way for runway expansion.

We plan to race at a few USLMA late model events in 2006.


News: (19-Nov-2009) Yearly update time :) Nicholas is now almost 2 years old and Holly is almost 4 years old. My race car is still in the same condition as after the last race I ran in April 2007. Well, I did remove some body panels and cut the bent front bumper off. But no repairs have been done yet. I did start it up recently - I forgot how cool it sounded. - Kris.
News: (25-Sep-2008) Well here is a rare update. Nicholas is now 8 months old and Holly is now 2 years and 7 months old and both are doing fine. Nicholas is just now starting to "army crawl". Holly is occasionally getting a case of the "terrible twos", but not very often. Not much racing news - I raced Keith's Factory a few times at Lawton speedway in the spring. We stopped racing when Dad starting having more heart problems. He passed away August 13th, 2008. - Kris.
News: (24-Jan-2008) Nicholas has arrived. Born Jan 15th, 2008, 8:05 AM. Weight: 6 lb 5 oz, length: 19 1/2 inches, eye color: blue for now, hair: blond for now. Cheryl and Nicholas are doing fine, and Holly is excited about the new baby. - Kris.
News: (31-Dec-2007) Not much happening here. We are waiting (well, Cheryl is READY now) for our 2nd baby due on January 14th. It is a baby brother for Holly and his name will be Nicholas. - Kris.
News: (22-Oct-2007) We are NOT racing at the Oct. 27-28 USLMA races at Altus Speedway. The car is not ready and I am not a fan of the two day race format. The extra day just seems like a way for the speedway to make extra money off of the racers (pit passes, entry fee, pay to practice). I also shutdown the Message board a while back because SPAMbots were constantly attacking it and adding messages. - Kris.
Results: (9-May-2007) We finished 7th in the USLMA race at Altus. I think every body panel has some damage - mostly not my fault :) - Kris.
News: (12-Apr-2007) We will be racing April 21st at he USLMA race in Altus Oklahoma. - Kris.
News: (20-Nov-2006) No I did not fall off the planet - just busy with other stuff. As you can see, I did not race any this year. Maybe I can get the racing going again next year. - Kris.
News: (15-Jul-2006) Wow. No updates in a long time - Sorry. Cheryl and I have been busy with the excitement of having our first child. Holly was born on February 10th, 2006. She is a good baby and has a captivating smile. We also bought a new house this spring. With all that, I have not spent much time preparing to race this year. I might be able to make the Labor Day USLMA race at Altus - we will see. - Kris.
News: (26-Oct-2005) We did not go to the Sandia race. I guess that worked out ok because the race was rained out and will not be made up. On another note, I had to re-install the Message Forum due to changes made by my hosting service - you will have to re-register to post a message. - Kris.
Results: (6-Sep-2005) The Labor Day USLMA race at Altus was pretty good to us. Not perfect, but the best results we have had lately. I finished second in my heat race Saturday. That, plus the USLMA inversion draw, lined us up in 6th starting position for Sunday's main event. During the 125 lap race the car turned good in the middle of the corner, but forward bite off the corner was lacking. I wasn't alone, most cars were sliding around. I lost about 3 positions at the start and then started working my up to the front. I finished in 4th place. - Kris.
Results: (23-Aug-2005) Keith offered to let me drive his Factory Stock at Lawton Speedway recently while he was away on vacation. The first night, July 30, the torque converter broke after 5 laps in the feature race. The second night, August 6, I did bad in the heat race and had to start 19th in the feature. I ended up 4th in the feature due to passing a few cars and avoiding a couple of wrecks involving cars that started in front of me. I would have liked to have a few more laps, 15 lap features go pretty quickly. The third night, August 20, was rained out. - Kris.
News: (23-Aug-2005) The next USLMA race at Altus is Sept 3rd and 4th. Qualifying heat races will be on Sept 3rd, Saturday. The main $2000 to win 125 lap race will be on Sunday, Sept 4th. We are getting the front bumper straightened out from the last race and will be ready to go racing Labor day weekend. - Kris.
Results: (20-Jun-2005) The USLMA race at Altus went pretty good. I started 3rd in the Heat race, but the car in front of me had a problem on the start and I ended up in 4th. While attempting to pass the third place car on the inside, our cars bumped and we both spun. I ended up 5th, which would mean I had to start in the 7th row on the inside for the 75 lap Feature race. The car worked good and I worked my way up to 6th. The top six cars were nose to tail at the end of the race. We were really happy with the handling of the car, we just needed a better starting position. - Kris.
News: (13-Jun-2005) I have got the Late Model ready for the USLMA race at Altus on June 18th. The body is a little shabby looking now, but I plan to buy a new one soon. - Kris.
Results: (13-Jun-2005) Keith has raced at Lawton with his factory stock 5 times and got 11th, 1st, 11th, 6th, and the turn two wall. The wreck into the wall looked bad. Keith is ok, but the frame is bent a little on the right front and the right rear suspension was torn loose. It's off to the frame machine... - Kris.
News: (23-Apr-2005) I found out this week that the 1999 Monte Carlo body is no longer legal to race June 11th at Texas Motor Speedway with USRA. With vacation coming up, I don't have time put a new ABC legal body on the car. I have taken the race off my schedule below. - Kris.
Results: (23-Apr-2005) I was running 5th at the April 16th race with about ten laps to go and got into a lapped car. The dammage to right front body work made the hood flop up over the window, so I was done for the night. The front body work was already dammaged from an earlier collision during the start of the race. Damage pictures: right rear, right front, left front. - Kris.
News: (10-Apr-2005) I have posted pictures of Week 7, Week 8 and Week 10 of Keith's Factory Stock build. I missed week 9. The USRA series has signed a three year contract with Texas Motor Speedway. There will be one race on the 1.5mi oval and a race on the infield road course this year. I stand corrected from my post below. - Kris.
News: (13-Mar-2005) I have finally posted pictures and a video (10.1 MB) from the ROMCO event at Texas Motor Speedway from April 2004. - Kris.
News: (10-Mar-2005) I have posted pictures of Week 4, Week 5 and Week 6 of Keith's Factory Stock build. - Kris.
News: (05-Feb-2005) I have posted pictures of Week 2 and Week 3 of Keith's Factory Stock build. Also, the Texas Motor Speedway race in the schedule below is still marked as "To Be Announced" on USRA's web site. I'm guessing it might not happen this year. - Kris.
News: (23-Jan-2005) I have posted a 3.9 MB video of my Oct 2, 2004 wreck at Altus. It is easier to post large files now that I have high speed internet access at the house using Online OK. - Kris.
News: (23-Jan-2005) Keith is building a Factory Stock to race at Lawton Speedway for 2005. Check out the the pictures of his dune buggy and the beginnings of the race car. - Kris.
News: (23-Jan-2005) The ROMCO Series has been sold to Terry Dickerson. The series has been renamed the United States Racing Association (USRA) and the new web site is at www.usraspeed.com. - Kris.
My Tenative 2005 Schedule:

| | | | |
| --- | --- | --- | --- |
| Location | Date | Series | Finish |
| Altus Speedway | April 16 | USLMA | DNF |
| Altus Speedway | June 18 | USLMA | 6th |
| Altus Speedway | September 3-4 | USLMA | 4th |
| Sandia Speedway | October 15 | USLMA | DNA |

DNF = Did Not Finish
DNA = Did Not Attend
The frame is a Howe XL Perimeter Chassis built by Larry Shaw. The body is a Five Star Monte Carlo. The 11.5 to 1 rotating assembly is from Summit. The heads are Dart Iron Eagle heads. The 750 carb is from Holley. The 390 Race Demon carb is from Barry Grant. The intake is an Edelbrock Victor Jr. The 9.5 to 1 engine rotating assembly is from Lunati. The NASCAR All Pro legal heads are from Brodix. T-D shaft rockers are used. The Intake is a HV-1005 from Brodix. The dry sump pump and pan are by Moroso. The dry sump tank is by Howe. Radiator is by Howe. Wheels are Circle Racing Wheels. Kirkey Seat. ATL Fuel Cell. AFCO springs. Pro-Shocks double adjustable shocks. Winters Quick-Change rear end. Summit gauge panel. Auto Meter tach with an Intellitach recall kit. Sweet steering. Tex Racing T10 transmission. Racetech Racing Communications radios. And many more parts.


---
[Home] [About Us] [Photos] [Links] [Racer Info]
---