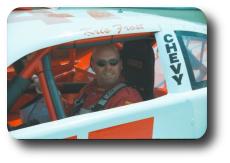 Born: July 16, 1963 - Duncan, Oklahoma

Family: Married to Cheryl, Daughter Holly born Feb. 10, 2006, Son Nicholas born Jan. 15, 2008.

Education: B.S. Degree in Computer Science from Cameron University, December 1985

Job Title: Software Developer Senior

Flying History: I first tried RC flying in the late 70's and failed. The little .049 trainer crashed on my first attempt. I next tried flying in 1988. I purchased a Cox EZ-Bee .049 foam plane from Sam's Club. I got better at flying and put a Cox Medallion .049 on the EZ-Bee. The foam wing was not up to the increased performance and the wing failed during a tight loop. The plane augered in... I started flying again in 2004, I think I am finally getting the hang of it.
---
[Home] [About] [Photos] [Links] [Misc Info]
---